Arthur Hill Gilbert, A.N.A.&nbsp
(1894-1970)
View Artist Biography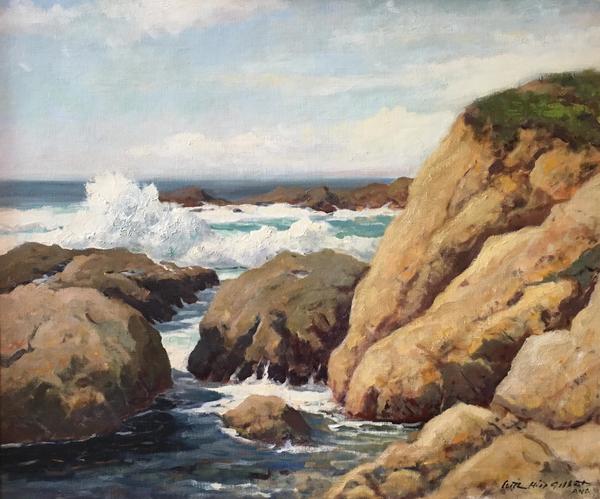 Title:
"Marine" - Carmel Highlands
Signed lower right: Arthur Hill Gilbert, A.N.A.
Titled, signed and dated on reverse canvas

Arthur Hill Gilbert established a lasting reputation as an able interpreter of California's rolling, oak-studded hills, and its rugged coastline.

Arriving in California to study at the Otis Art Institute in Los Angeles about 1920, he would first earn recognition exhibiting through the Stendahl Galleries and the Laguna Beach Art Association.

He moved north to Monterey in 1928 and became an active member of the newly formed Carmel Art Association. He was soon to win major national awards and was one of the very few California impressionists to be elected into the prestigious National Academy of Design receiving an associate membership in 1930.

Gilbert continued exhibiting statewide and nationally, while playing a formative role in the art community of the Monterey Peninsula. As a member of the prestigious "Big Four", Gilbert exhibited often with fellow resident academicians: Armin Hansen, William Ritschel, and Paul Dougherty.
INQUIRE
View Artist Biography