Armin C. Hansen, N.A.&nbsp
(1886-1957)
View Artist Biography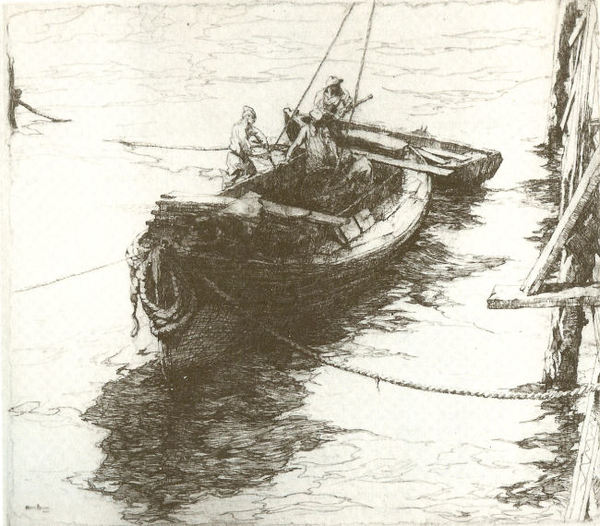 Plate: Signed & dated, lower left: Armin Hansen '22
Titled in pencil lower left; signed in pencil lower right.

In: 'The Graphic Art of Armin C. Hansen-A Catalogue Raisonne by Anthony R. White/1986; plate #43, pages 54, 55.

Exhibited: LA International, 1923, #312, awarded Los Angeles Gold Medal, offered by the Los Angeles Chamber of Commerce for best print in exhibit.

"By the early 1920s, Hansen had achieved a mastery of the medium and a maturity of expression that he sustained and refined until he gave up the art in 1939. A work in which his mastery of the traditional aspects of drawing is made clear is the prizewinning and frequently reproduced 'Sardine Barge'. The foreshortening of the barge and the deft transitions between the boats, the watery reflections, and Monterey Bay yield a natural and unaffected harmony of light and mass." White/1986.

THIS IS HANSEN'S SIGNATURE ETCHING - HIS GOLD MEDAL WINNER AND ICONIC COMPOSITION.