Will Sparks&nbsp
(1862-1937)
View Artist Biography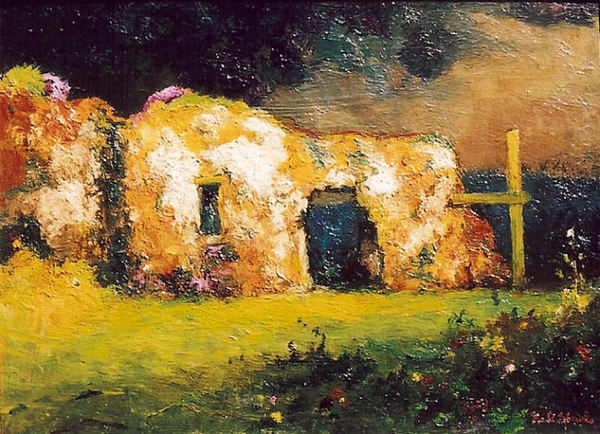 Title:
"Father Junipero Serra Adobe near Carmel"
Signed lower right

Provenance: Ex-collection Haskell/Spreckels/ Los Adobes de Los Rancheros and Los Rancheros Visitadores, Santa Barbara. This work is from Sparks 2nd and final complete mission series, 1933-1937.

There is an exceptional amount of documentation on reverse of this painting, and the insightful notations by Will Sparks… "Ruins of Father Junipero's home – Carmel Mission – July 24, '36…One of the oldest Mission ruins in California built about 1776".

The location of Junipero Serra's adobe from what we gather, is the restored adobe next to the Orchard House, adjacent to the Carmel Mission with the River School baseball field behind on the opposite side. From the research, it, along with the other original adobes and wall, were originally built under the guidance of Junipero Serra and Father Lasuen, approximately during the years 1772 to 1775.

"…depicts a fragment of the ruined Carmel Mission quadrangle, presumably constructed between the founding of that mission in 1771 and Serra's death there in 1784. The artist's twilight treatment enlivens a dun-colored ruin with brilliant floral highlights and heavy impasto. Although dated 1934 and included in the final mission series, this work may hark back to earlier visits when a disintegrating corner cell of the former friars' quarters still lingered in popular memory as the "adobe home" of the intrepid Franciscan who founded California's first nine missions."

Source: Missions of Will Sparks/Santa Barbara Historical Museum, 2011; page 8.