View Artist Biography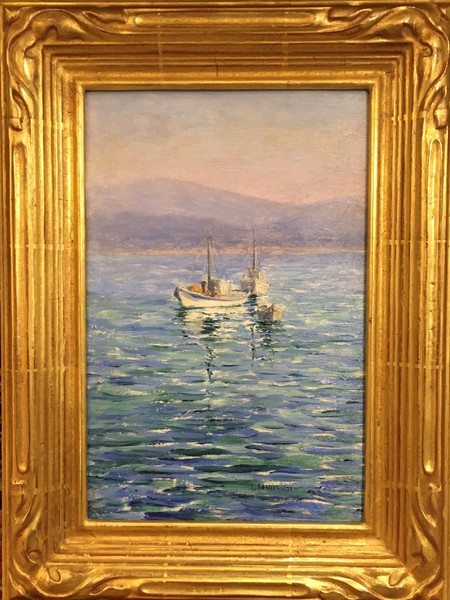 Title:
"Three Boats in Monterey Bay"
Signed lower right
Dated October 1922 on reverse

Lillie May Nicholson is noted for her Impressionistic paintings of coastal landscapes and fishing scenes executed with loose brush strokes and vivid broken palette. Or…vivid, broken color.

Nicholson was born on a ranch in Aromas, California, in 1884. After attending the PPIE in SF in 1915 she enrolled in the California School of Fine Arts and was greatly influenced by her instructor, Gottardo Piazzoni. She actively exhibited in San Francisco and became a charter member of the San Francisco Society of Women Artists in 1925.

She was an early member of the Carmel Art Association and exhibited there in 1927-1928. Nicholson maintained a studio in Pacific Grove until the mid-1930s specializing in the beautiful California coastline and the fishing industry around Monterey. Her studio attracted a number of visitors from the local art colonies, including Louise M. Carpenter, Jeanette Maxfield Lewis, Roberta Balfour and Bertha Stringer Lee.

She left her art career behind in 1938 and resided permanently in the San Francisco Bay Area until her death in Oakland. Her work was rediscovered in 1979 when a trunk was found on the family ranch containing most of her oeuvre.