View Artist Biography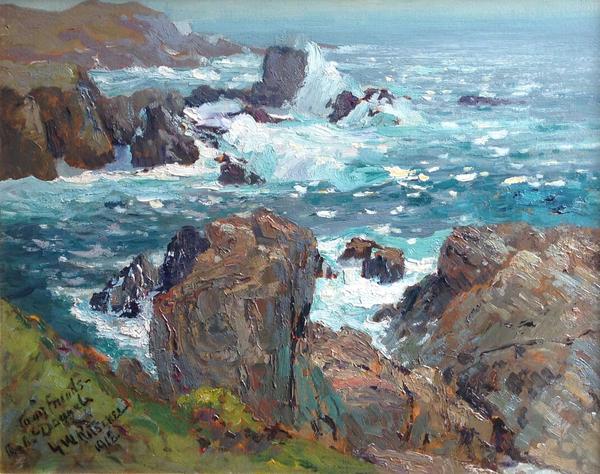 Inscribed, signed and dated lower left: 'To my friends, the MacDougals, by W. Ritschel, 1918'. Also inscribed on reverse.
Dr. MacDougal was recognized as the leading American authority on desert ecology. By 1909 he had established a coastal botanical lab for the Carnegie Institute in Carmel and he and Ritschel formed a friendship.

Ritschel's superb interpretations of the California coast earned him the title of Dean of American Marine Painters. "Few marine painters know the sea as Ritschel does…when he paints a fine marine you feel in it the beauty and the danger, the cruel, barren ocean-love which will not
release the enthralled painter." (Antony Anderson)

He was a master of any mood – the violence of a storm-tossed surf, the reverent beauty of a Pacific sunset, the ethereal-like feeling of a moonlit lagoon in the South Seas.

Ritschel was born in Nuremberg, Bavaria. In his youth he spent several years as a sailor before entering the Royal Academy in Munich. His talent as an artist combined with his love of the sea resulted in marine painting being the primary focus of his work.

He immigrated to the United States, settling in New York City. Within a few years he was exhibiting and winning awards alongside well-known Eastern artists including Paul Dougherty, Ernest Lawson, Childe Hassam, Edward Redfield, Willard Metcalf, and J. Alden Weir. He became a member of the Salmagundi Club in 1901 and was also a member of the New York Water Color Club and the American Watercolor Society. In 1910 he was elected an Associate Member of the National Academy of Design (ANA). In 1913 he received that Academy's Carnegie Prize and following year received the gold medal and was elected a National Academician (NA).

Around 1909 Ritschel and his wife, Zora, moved to California and by 1911 became regular spring-summer residents of Carmel first renting a studio/home in the Carmel Highlands from J.F. Devendorf and Frank Powers through the Carmel Development Company. He exhibited at the S.F. Art Institute in 1911. In 1914 the New York Times called him 'one of the strongest painters of the country' and included him among the "notable" artists of Carmel. He won a gold medal at the P.P.I.E., 1915, and at the California State Fair in 1916. Outside of Carmel the private art gallery in the Hotel Del Monte was his most prominent venue on the Monterey Peninsula between 1916 and 1934.

In 1921 he moved into the unique, castle-like, stone studio-home he had built high on a bluff overlooking the ocean in Carmel Highlands. He called it 'Castel a Mare'. From his "Castel a Mare" Ritschel said that "He watched the sea…until he made himself master of a marine color-magic…"