View Artist Biography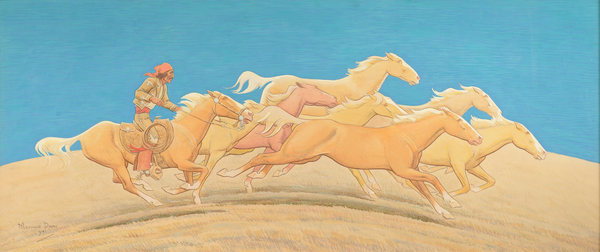 Size:
16 1/2" x 38 1/2" approximately
Signed and dated lower left

A similar themed painting as "The Palominos" is a mural painted in 1942 by Maynard Dixon for the Canoga Park (California) Post Office described as a large oil on canvas depicting several galloping horses and a rider:

"Canoga Park Post Office was completed in 1938. The architect for the project was Louis A. Simon who also did the San Pedro Federal Building. Even though this is a small post office that was at the time, on the outskirts of the city, it is one of the most important post offices in the area. The mural, "Palomino Ponies," inside was painted in 1942 by Maynard Dixon, one of the most well known painters of the American West. At age sixty-six this would be his last public mural project. Many of Dixon's paintings are in prestigious art museums around the country including the De Young Museum, Brooklyn Museum, The Oakland Museum and the Norton Simon Museum in Pasadena. During the depression Dixon began painting hobos and migrant workers."

Source Notes: The New Deal In Los Angeles 1933-1943…art during the Great Depression website.