Arthur Hill Gilbert, A.N.A.&nbsp
(1894-1970)
View Artist Biography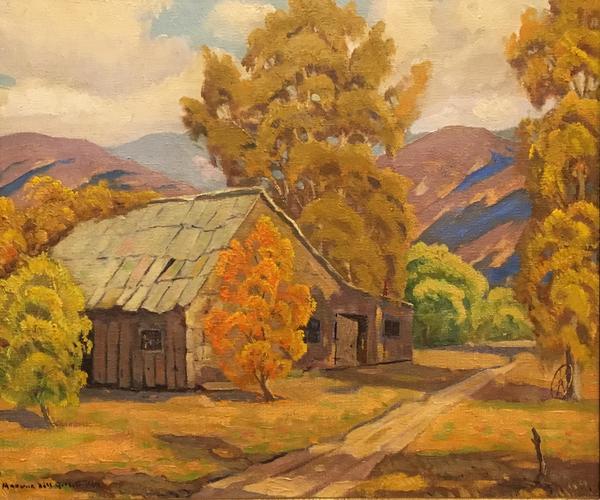 Signed lower left: Arthur Hill Gilbert, A.N.A.
Paper label on reverse with title, location and artist.

Bret Harte (1837-1902) is best known for the short stories he wrote about the Gold Rush and the American West. Harte, according to some, "reinvented the American short story" and "laid the foundation for the Western novel". The stories were powerful and well crafted, with local color and picturesque characters confronting the difficult environment they lived in.

Harte spent a little more than a year traveling around the Gold Country beginning in 1854, first working as a schoolteacher in La Grange (near today's Don Pedro Reservoir). When the school closed, he took up mining near the Stanislaus River, probably moving as far north as Angels Camp and as far south as Table Mountain, near Jamestown. He visited Jim Gillis at his cabin on Jackass Hill, the same cabin where Mark Twain (1835-1910) lived eight years later. He supposedly later worked as a Wells Fargo guard on stagecoaches carrying currency and gold bullion.

Jackass Hill was named for the jackasses in the pack trains that rested on the hill overnight to and from the mines. As many as 200 animals performed a concert each evening and the area was named Jackass Hill to remember their evening songs during the boom days of the California Gold Rush. The California Historical Marker is located 1 mile northwest of Tuttletown on Highway 49. This site is part of the Mark Twain Bret Harte Trail.