The Jo Mora 'Fable' Murals 1936 Commission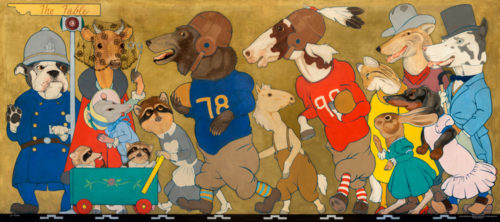 In 1936 the Hotel Drake-Wiltshire in San Francisco commissioned internationally famous California artist and sculptor, Jo Mora (1876-1947), to paint these seven 'Fable' murals to decorate the walls of the hotel's 'Fable' restaurant.
The 'Fable' murals were painted during the great depression of the 1930's. The anthropomorphic imagery of these humorous murals served to enliven conversation for hotel guests of all ages, providing a wonderful experience for all visitors.
San Francisco's unique restaurant was nationally known for these beautiful murals by Jo Mora, and for its dining experience.
The mural images were printed on the restaurant's menus and hotel postcards as souvenirs and have now become scarce collectables.
The original suite of seven 'Fable' murals are now owned by Trotter Galleries, Inc. and are on permanent display in our Pacific Grove Museum Gallery.
Inviting you to enjoy The Fables!
Terry & Paula Trotter
FULL COLOR ULTRA HIGH RESOLUTION 'FABLE' MURAL PRINTS FROM THE 1936 JO MORA 'FABLE' MURAL COLLECTION ARE AVAILABLE FOR PURCHASE IN ORIGINAL OR CUSTOM SIZES
ON CANVAS OR ON METAL – FRAMED OR UNFRAMED
~ WIRED AND READY TO HANG ~
Jo Mora 'Fable' Mural Collection   Copyright 2017   Trotter Galleries, Inc.  All Rights Reserved