View Artist Biography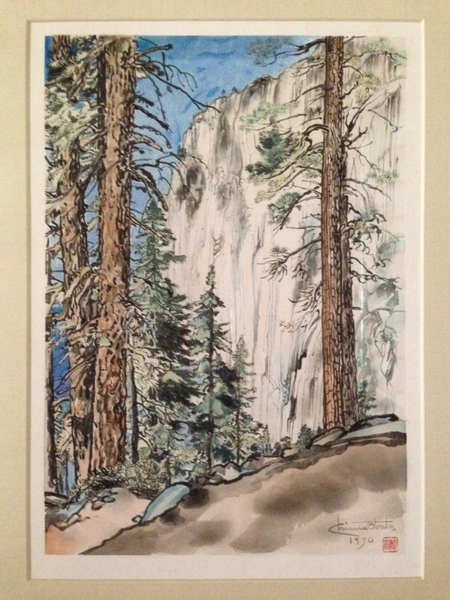 Original Japanese Woodblock Print
Signed and dated lower right with artist's chop
Stamp on reverse: Made and Printed in Japan
at Takamizawa Color-Print Studio; No. 12 edition

The Eagle Peak Trail climbs from the Yosemite Valley floor to the top of Yosemite Falls.

"This little stream, after having been born at the foot of Mount Hoffmann, comes down murmuring and whispering, leaping and jumping, winding through the forest of gigantic trees for forty miles - and down it goes, 1,900 feet over the cliff, forming one if the world-famous natural wonders, the Yosemite Falls. Its roaring and thundering sounds bound and rebound against the mountaintops and make the whole atmosphere vibrant." Chiura Obata

Begun in 1928 when Obata visited Japan, the World Landscape Series took 18 months to complete. The project required the work of 32 block carvers and 40 printers with each print requiring from 100 to as many as 160 impressions in order to accurately replicate Obata's original watercolors. The folio consisted of 35 colored woodblock prints. All but one show California scenes and 27 are views of Yosemite and the High Sierra. It is believed that 100 folios were sent to the artist. Not all of the prints were signed and sealed. The folder illustration shows the publisher's watermark, visible below the title slip.

Reference No: Obata's Yosemite, page 130.