View Artist Biography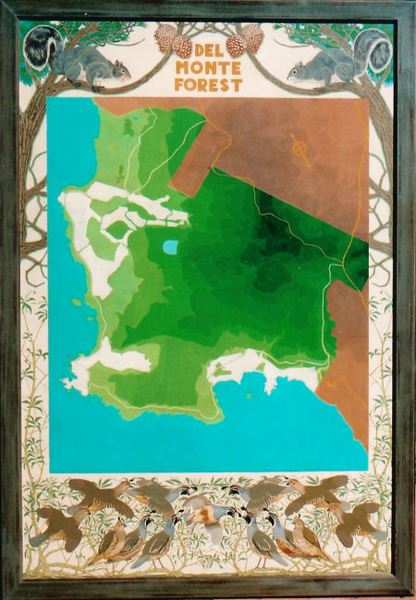 Jo Mora was a true Renaissance man –
sculptor, painter, muralist, etcher, illustrator, cartoonist, map-maker, saddle-maker, photographer, author, actor, designer of everything from coins and book-plates to houses – leaving us a remarkable legacy. He devoted his life to exploration of subjects as diverse as vaqueros, Hopi Kachina figures, the Arizona landscape, and California missions.

SFB Morse personally commissioned his close friend, artist Jo Mora, to paint this mural for his Del Monte Real Estate office to help sell lots in Pebble Beach in the late 1930s.

This mural represents a rare direct link to the artistic and commercial heritage in the development of the Del Monte Forest - Pebble Beach. It illustrates the layout of the three golf courses at the time and the various topographical elevations of the Del Monte Forest surrounded by Mora's whimsical depictions of his favorite forest friends - squirrels up in the Monterey Pines and the California quail below.